2011 HURST DODGE RAM 1500
Hurst has focused its attention to the 2011 Dodge Ram 1500 pickup for its next automotive offering. Starting with a 2011 Ram 1500 R/T regular-cab, Hurst adds its signature white-and-black paint scheme, badging, interior upgrades, Hurst colors on the factory 22-inch wheels, and a numbered dash plaque.
The exterior of the truck will feature Hurst graphics on the driver and passenger side fenders, doors and bed, as well as Hurst badges on the grill and tailgate. The wheels remain factory 22? forged aluminum polished rims, but are given the Hurst treatment with a custom paint job on the interior spokes.
Interior of 2011 Dodge Ram 1500, driver and passenger seating surfaces feature red top-stitching and an embroidered Hurst logo in the headrests, while drivers get to have Hurst's signature "Pistol-Grip" billet aluminum anodized shifter in hand when engaging the drive gears. Also inside, an interior dash plaque made of real metal verifying the truck's provenance as an officially modified Hurst vehicle, is accompanied by Hurst-embroidered floor mats.
Hurst adds power underhood by fitting a supercharger to the Ram's 5.7-liter Hemi V8, then adding a performance exhaust system. The team at Hurst will first work to make the truck's 5.7L HEMI V8 breathe better with the addition of a supercharger and polished custom exhaust. What results is a truck that sounds as good as it performs.
2011 Hurst Dodge Ram 1500 will be built limited edition only 50 annually, and each come with a signed Certificate of Authenticity and signatures in the cab from the Hurst Team for added collectability.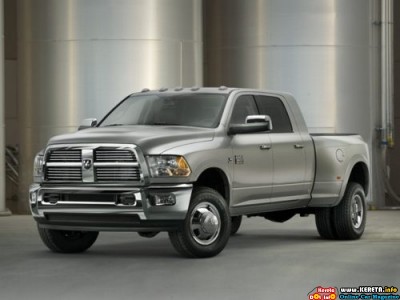 2011 DODGE RAM 3500 MEGA CAB
Mega Cab is one of 2011 Dodge Ram 3500 model, its available 4X4 and 4X2 drive types. The car offers bold styling with an aggressive "grille-forward" design, interiors with premium materials and innovative features, and big power from a Cummins diesel engine, making it ideal for work and play.
The 2011 Dodge Ram 3500 Mega Cab is a 4-door, up to 6-passenger full size pickup, available in 3 trims includes, the SLT SWB to the LARAMIE LONGHORN EDITION SWB. All trims support by one engine.
There are equipped with a standard 6.7-liter, I6, 350-horsepower, turbo, diesel engine. A 6-speed manual transmission with overdrive is standard on the SLT SWB, and a 6-speed automatic transmission with overdrive is optional. A 6-speed automatic transmission with overdrive is standard on the LARAMIE LONGHORN EDITION SWB.
The Ram 3500 provides something for everyone with the choice of three cab styles (regular, Crew and Mega cabs), four wheelbases, single or dual rear wheels and either 4×2 or 4×4 drive types.
The 2011 Dodge Ram 3500 Mega Cab is available safety features include dual front airbags, curtain airbags and anti-lock brakes. Heated and ventilated front seats, heated rear seats, heated steering wheel, power adjustable pedals, rear parking sensors, and a rear backup camera are available.
In interior of 2011 Dodge Ram 3500 Mega Cab is equipped electronic and infotainment choices include a multimedia system with 30-gigabyte hard drive, navigation system, SIRIUS Backseat TV, and a rear-seat DVD entertainment system.
Please follow and like us: