2010 LOTUS CITY CAR CONCEPT
The company's CEO said the Lotus City Car Concept will be manufactured in cooperation with Lotus parent company Proton and an undisclosed third party. And its has been confirmed and will be launched in October 2013.
The Lotus City Car will be built in three versions: one for the Asian market, one for Europe and a sportier one. The Lotus flavored Concept City Car is based on one of the three Giugiaro-penned Proton EMAS design studies, which were first shown in Geneva earlier this year.
Design in-house by Italdesign Giugiaro, powered by the EV concept model features a 45 kW (75kW peak power) electric motor that can be recharged by a 1.2 liter 3-cylinder engine. The hybrid plug-in drive system was developed entirely by Lotus.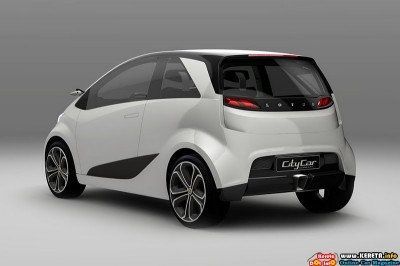 The City Car concept is said to complete the 0 – 50 km/h sprint in 4.5 seconds and the 0 – 100 km/h [62 mph] in 9 seconds, when operating as an EV under battery power. The top speed is pegged at 170 km/h, [105mph] with a charge sustaining top speed of 120 km/h [63 mph].
The pure electric drive range is 50 km or 31 miles, but can be extended to a total of 500 km or 311 miles when the petrol engine kicks. Lotus claims that the drivetrain returns CO2 emissions of 60 g/km.
2025 SAAB SPORT SEDAN CONCEPT
Youngho Jong is a Korean design student, he taken Saab to looking towards future as sport sedan for 2025 Advanced Warning System Vehicle concept: a rakish, four-door saloon with coupe-like styling. And no headroom, by the looks of it, but that's a forgivable oversight. More interesting to us, however, is how he used his knowledge of nature and human psychology to come up with a vehicle that isn't just smart, it's downright sinister.
With his research showing that 50% of vehicles accidents are caused by carelessness, excessive speed and tailgating, Jong wanted to create a car that would warn other drivers to back off and drive with care.
There are following the 2025 concept, slits open up in its rear panels revealing amber hazard lights, patches of the car's skin also darken. The same amber slips are found on the front and sides of the vehicle. Jong took his inspiration from nature's Fire Salamander, which uses its bright, menacing colours to ward off potential predators.
Jong also mentions that the Saab Sport Sedan Concept Study's skin is constructed of a soft, impact absorbing material that reduces pedestrian injuries and vehicle damage in collisions. He incorporate sharp edges and the colours red and yellow to further emphasises the possible danger.
Please follow and like us: