How well is your car
interior
sound & noise insulated? If you are driving 100kmh and feeling like you are driving too fast, it is actually a bad sign of
sound proofing
in your car. The sound came from the wind and the road surface contact with your tyres and also your engine bay. Make your car sound proof to experience a relaxing and steady drive. Other advantage of sound deadening or
sound proofing
is it will improve your sound system level.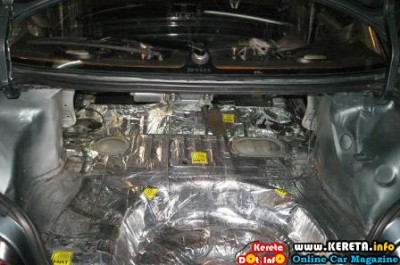 – - – -
Basically, you need to have the sound proof material and know how to do the sound proofing. Here we would like to share some of the technique to do sound proofing in your car and some of the example of material available for sound proofing.
The simple steps:
1) Gather the following tools: knife or scalpel, glue, hair dryer, roller, acetone and rags.
2) Leave the sound-deadening material out in the sun to get warm. This will make it more pliable and easier to work with.
 3)Take out the seats, dashboard,
door panels
and carpet from the interior of the car and strip the carpet from the trunk.
 4) Use the acetone to clean the metal surface of the floor, the firewall, the doors and the trunk.
 5) Spray glue on to the metal surface, peel off the backing from the deadening material and apply the material to the metal surface. Use the roller to make certain that the material adheres to the surface. Use the hair dryer to heat up the material so that it stays pliable as you apply it.
 6) Roll out any bubbles or bumps to make sure that the material is applied smoothly. If you are working on door panels that have ridges, make certain that the material fills the gaps, not just bridges them.
 7) Replace the dashboard, door panels, carpet and seats.
Sample of sound proof material and price:
SP MAT SOUNDPROOFING
Solid Quietness Makes Driving A Pleasure
Feeling irritated while driving due to the excessive noise from the road? Unsatisfied with the bass produce by your speaker? Feeling unsecured with noise coming in from the thin metal body of your car?
All of this could come to an end with SP Mat Soundproofing.
Introducing SP Mat, the next generation of soundproofing solutions made from modified
bitumen
. It is an amazing sound dampening and
absorption
product that comes complete with aluminium backing to withstand high temperature. Unlike SP Mat, conventional bitumen based soundproofing products can easily melt under high temperature and harden upon cooling. Due to hardening, dampening effect will not take place, hence soundproofing effect will be minimal.
Benefits of Soundproofing material
• Reduce excessive noise created by the road from the car tyres.
• Reduce significantly on exhaust sound when stick on the correct area.
• Increase solidness of the car body such as doors, bonnet and other parts of the car.
• Increase the production of bass from your car speaker.
• Reduce vibration of door panels if correct installation had been done to the doors.
Sound proof material Installation guide:
• Clean the surface of the area that is intended to be sound proof.
• Measure the length of area that is intended to stick and cut it.
• Remove the paper and stick it accordingly to your preference (just like double sided tape)
• Use a cloth or a flat roller to press the mat on to the surface that has been stick.
• Pack your stuff to feel the differences
Price of sound dampening material:
Dimension per piece:
• Length : 760mm
• Width : 300mm
• Thickness : +/- 3mm
Price:
• 4pcs/box = RM138
• 6pcs/box = RM198
For best effect install with SP Foam (3ft x 4ft x 6mm) which cost RM35/pc
Lagi info kereta Malaysia yang best: