We have seen so many modification theme such as extreme, VIP, sports and rally. But this time, the unique style which can be called "cute" theme of modification appears on a Modified Smart Fortwo compact car. Usually, this theme using smooth colour such as pink and white as the colour of overall interior and exterior. The owner of this vehicle is a women. However, the theme not limited to them only. There are a lot of man out there loves this style too.. Especially who owns a compact car.
The rear compartment of this two seater compact car. Fitted with compact flat subwoofer.
Interior full of pink + white.
 –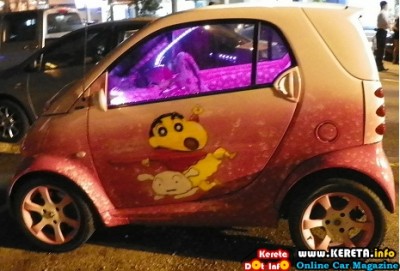 View from side. Big rims in white. Shin Chan cartoon character as the idea for exterior airbrush.
Rare Nicely modified Smart Fortwo.. Picture snapped during V1 Autoshow
Please follow and like us: