Recently we have been invited to join the Ampang Park Automotive Week which has been organised between 15-21 March 2010. A few car clubs has been invited with all media for automotive to attend the automotive week at Ampang Park Shopping Mall Jalan Ampang. We are there on 21/03 to view it and there are three car clubs on that day which is Satria Neo Crews, Viva Club and Classic Mini / Mini Cooper Fans Club.
Classic Mini has many version including the mini cooper which has sportier looks.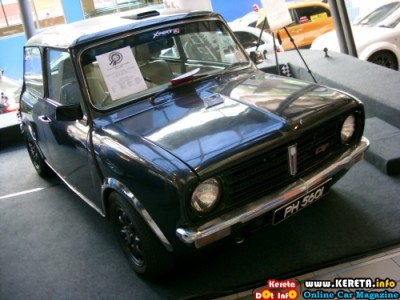 The mini displayed
Other event is the interview session with car clubs, the car detailing demo on that day and car show from classic mini cooper.
So here are some of the images of classic mini cooper that have been displayed during the automotive week.
The extreme modification on Mini
Concept Mini with decoration theme for merdeka parade
Transparent engine hood – a creative mod by Mini club Malaysia
Short Specification of Classic Mini
Manufacturer BMC to MG Rover, and Innocenti, Authi
Production 1959–2000
Class Supermini
Layout FF layout
Engine(s) A-series, 850–1275 cc I4
Transmission(s) 4-speed manual
4-speed automatic
 
Wheelbase 2.04 m (80.3 in) (saloon)
2.14 m (84.3 in) (estate and commercials)
Length 3.05 m (120.1 in) (saloon)[1]
3.40 m (133.9 in) (estate and commercials)
3.30 m (129.9 in) (Wolseley Hornet/Riley Elf)[2]
Width 1.40 m (55.1 in)
Height 1.35 m (53.1 in)
Kerb weight 617 to 686 kg (1,360 to 1,512 lb)
Designer Sir Alec Issigonis
Another extreme modified mini
simple classic interior of mini car
The truck version modified mini
Share and Enjoy